1º Stage
In 1922 Simon Guthmann, president of Molinos Rio de la Plata , travelled to France and took Biribi with him , a horse ridden by Domingo Torterolo and loked after by Juan Torterolo . In Paris it won the Gran Prix .Guthmann acquired an apple orchard in the region of Normandy and converted it to raise horses. Thus , he named his brand-new norman Stud ¨Haras de la Pomme¨ ,apple in French.As from that moment Guthmann devoted himself to horse-breeding.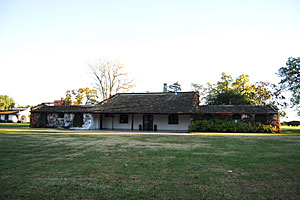 His son Roger Guthmann,born in Argentina in 1918 , inherited his love of thoroughbreds and expanded his knowledge at Maison Alfort. Univerity of Veterinary Science in France. When the Second World War broke out Roger Guthmann wisely returned to his country.
The history of the argentine ¨Haras de la Pomme¨ had its origins in 1941,during the Second World War,when Roger Guthmann and his brothers founded an establishment for thoroughbred breeding on road 31 , San Antonio de Areco , Province of Buenos Aires. It is said that Ricardo Guiraldes wrote the famous ¨Don Segundo Sombra¨ in the previous establishment which was formely an "estancia" called La Fe´. Guthmann's dedication, experience, and knowledge allowed him to be amongst the most successful in argentine racing.
Haras de la Pomme bears an elegant mixture of Spanish colonial style and traditional pampean architecture. Most of the original buillding materials used in the first stages of its construction were imported from France.
Great care was taken in designing the ideal horse farm, with great attention paid to every detail. The areas intended for mares , breeding, foaling, weaning, yearling sales preparation , and stud barns , were furnished with pleasant staff housing such as bedrooms , kitchen , a dining-room for employees, as well as storage warehouses.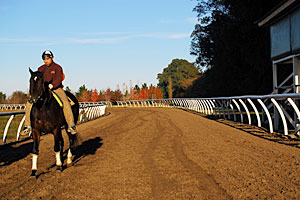 Guthmann imposed the use of the snaffle bit which was not approved in Argentina , and was the first to hire foreign jockeys like Zuñiga , Ortiz Tapia and Francisco Irigoyen.
When the war came to an end he recovered mares that had been seized during the nazi invasion in France and imported them to Argentina.for his Stud.
Among his first stallions a few exeptional ones stand out. Birikil born in France, Cameronian, winner of Derby in England, and Foxhunter , winner of the Gold Cup. During the 1950s great champions were born from these stallions and mares in the lush pastures of La Pomme. Stallions like Again Swing , Imbroglio , Zoografos with an outstanding peformance in United States , Klick whose statue stands in the racetrack in Caracas, Bambino , Mome and Foxona, all winners at the highest international standards. The famous mare La Mission who won the quadruple crown was a later acquisition.This was only the beginning of a history of success of the brown and black silks of La Pomme.
2º Stage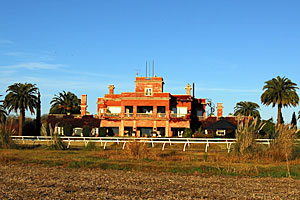 In November 1985 a new stage began in "Haras de la Pomme" wich was then inactive. Following Adolfo p.Giovanetti´s advice, who unfotunately passed away, they decided to keep the name and the colours. Therefore when remodelling the stud they preserved its historical structure.
Then they continue searching for and acquiring first class mares and subsequently a stallion.